Managing Probations Has Never Been So Easy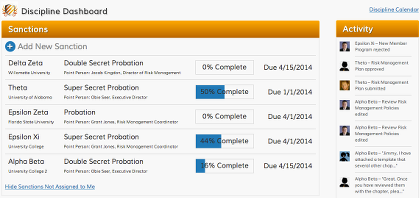 ---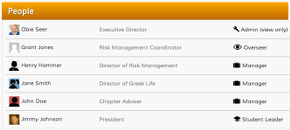 Focus on people. Not paper.
Rehabilitating a chapter takes more than a stack of paper and a handful of due dates. Give your chapters the support they need in a safe collaborative environment.

Spend less time tracking due dates.
Eliminate the stacks of paper, the checklists, and the outlook reminders. VeriSky automates due date reminders for students, volunteers, and staff to keep everyone on track.

Progress updates at your fingertips.
With VeriSky you will have up-to-the-second details on the progress of your chapters. Know who is completing their requirements on time and who is lagging behind.

Collaborate every step of the way.
Encourage staff, volunteers, students, and campus professionals to communicate, share documents, and work together in a private, secure environment.
Easy Project Creation
Automated Reminders
Due Date Tracking
Communication Tools
Document Sharing & Approval
Custom Reporting & Analytics
Like what you see? We'll set you up with a free trial.